Spring Residences - LOCATION
Spring Residences is Located at Brgy. Sun Valley, West Service Road, Paranaque City
Spring Residences is the newest state of the art project by the renowned SMDC. The project offers one of a kind Modern Deluxe Suburban Living. It has easy access to Key areas in the Metro. Everything you need is in a few minutes of walk reach. It is a perfect place for people who live up in the fast lane while staying close to their friends and family.
It has a total land area of 1.036 hectors with 4 towers. Total number of residential units are 1,655; tower 1 consisting of 434, 396 in Tower 2, 434 in Tower 3 and 391 in Tower 4. Altogether, there are 310 parking units out of which 298 are available for sale. The Tower progress is split into two phases, first phase to have Tower one and two and two up to podium level. And second phase to have Tower three and four built.
Three types of unit types and layouts are available. Family Suite A with Balcony (28.01 to 30.46 square meters), Family Suites B with Balcony (27.76 to 33.39 square meters) and One Bedroom with Balcony (26.68 square meters). You can choose according to your requirements.
We never compromise on providing lavish facilities along with around the clock security. We value our customers and their security is our top priority. We have installed CCTV camera everywhere in the buildings to ensure we have eye on every activity. Multiple elevators in each tower facilitate every resident. In case of fire or emergency, multiple exits and automatic sprinkler systems are available. Also backup generators ensure sufficient power to power up necessary appliances in case of power outage.
Spring Residences is located in Sun Valley, West Service Road - near SM City Bicutan with easy accsess to SM City Shop A & B, Transport Terminal, PNR Station. It has an exit away from the major CBD's (Makati City, etc.). Transport hubs & NAIA Terminal are also nearby and the residence is open via West service road, Skyway and Dona S Avenue. Schools such as German European School Manila, Immaculate Heart of Mary, Asian Institute of Computer Studies and Golden Achievers Academy are nearby. Hospitals nearby are P Doctor's Hospital, Prime Care Medical, St. Luke at Global City, Makati Medical Center. Spend your weekends by enjoying at Solaire Resort Casino and Resort's World Manila few kilometers away. Satisfy your shopping needs at SM Bicutan - SM Aura, GreenBelt, SMX SM Aura and SMX SM MOA which are also a ride away.
If you decide to move to a new location, then you will definitely need a place that is convenient for you; the environs and accessibility. Spring residences property is in Bicutan, Paranaque City. It's on west Service Road, Brgy. sun Valley Philippines. Its strategic locality makes everything easy for the residents since all you need is within reach. From the property you can easily access the Filinvest-Alabang Central Business District and Bonifacio Global City as well as Makati Central Business District given that it is just a short drive away. The accessibility to your places of interest such as business, work, education and health amenities, recreation facilities and the city's leading retail as well as entertainment hub is addressed. Who wouldn't want to settle or invest in a place so convenient that you basically do not have to hustle for anything since all you need is right around you.
 
Transportation
Travelling from one place to the other from spring residences is convenient since you as a resident have the option of public transport as well as taxis which commute through South Luzon Expressway. 
Shopping And Leisure Destinations
Settling at spring residence is convenient because all leisure and shopping destinations are near you. Some of the shopping destinations you can easily access include; SM Bicutan, Sm Aura which is about 6 km as well as Greenbelt approximately 7km. If you are big on fashion, then this is just the place you need to visit for a wide collection of international brands. For your leisure time and breathe-taking moments with your loved ones you could visit the City of Dreams which is about 6 kilometers away, or better yet Solaire 6 kilometers away. There is also Resort's World Manila just 4 kilometers for fine dining and assorted cuisine.
Hospitals

You will also need to know about the health facilities available around your place of settlement. At spring residences your health needs have been addressed as such some of the best health facilities are just a few minutes' drive away. Some of them are Paranaque Doctors which is only 1.9 kilometers away; Makati Medical Center is 8.6 km from the property as well. Also, SMX SM MOA is around the environs being 8.4 km away. Lastly, you could choose to have your health issues addressed at St. Luke located at Global City which is 7.6 kilometers away.

For your events and functions you need not worry about a thing since the development has that covered too. You could choose to have your event in one of the two available convention and event centers which are SMX SM MOA event Center and SMX SM Aura Convention Center. Living at Spring residences couldn't get any better with all these facilities at your convenience.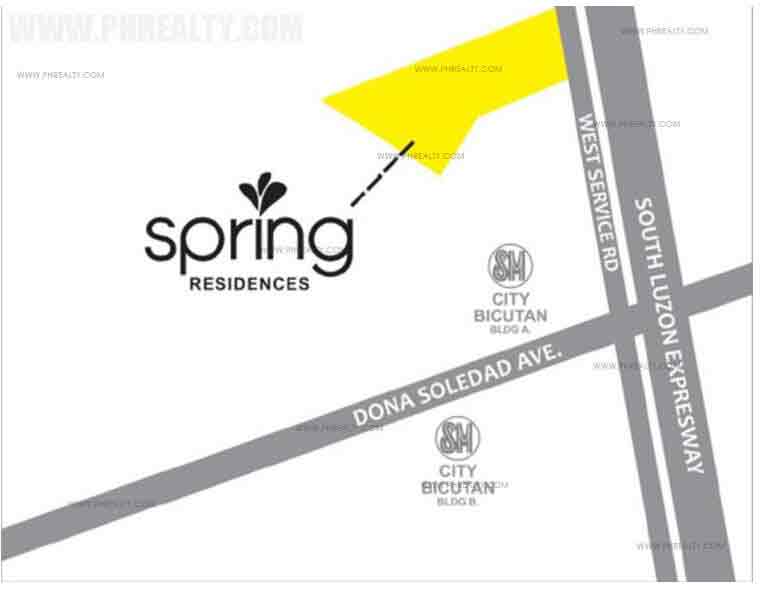 Quick spotlight on Paranaque
In order to understand the vibrant life of Spring Residences, a quick look at the city that houses it will be the wise thing to do. Spring Residences is located in this progressive city and it is just a few minutes away from the business district. The pristine environment of most areas of the province makes it the perfect place for raising a decent family; kids. The fast-paced family is rapidly becoming industrialized due to its proximity to Metro Manila. No need to be bossed around yet there are many opportunities waiting to be grabbed by the sobber-minded. The favored province is home to banking corporations, and activities such as agribusiness, aquaculture, food processing among others. Money is not everything but, it is the only thing so hurry as fast as you can and grab your opportunity to break the circle of poverty. Living in this city means no joblessness so why not choose Spring Residences?

The transport system there is one to be praised; all efficient and inexpensive. Moving around the unspoiled province is quite easy. The jeeps and taxis are easily accessible even though the jeep drivers can be ruthless sometimes. Moving around doesn't have to be stressful, whether one is going for that boring lecture, the much awaited date or to see the that friend. A beautiful city like this deserves such means of public transportation, yes?
In as much as people keep complaining about boring lives, if they don't do anything to stop being bored nothing interesting will come their way. Paranaque is a city with entertainment hubs that are held in high regards. A province that can never disappoint its residents. Paranaque is a city that never sleeps. Its residents get to enjoy the best of the best when it comes to entertainment. The exotic live performances from bands are a good way to unwind after a long unpleasant day. This is just another indicator of how romantic this city is.

The recreational facilities just within reach make the residences of this province not to live just an ordinary life but like on a vacation in their everyday life. Grab some popcorns and head to the state-of-the-art movie theatres and cinema halls that provide entertainment for those who enjoy passive entertainment. For partying and clubbing, the classic bars and clubs never disappoint. They are the nest definition of Paranaque's nightlife.

Spring Residences allows its residents to enjoy a blissful life all round the clock. Being, minutes away from the Metro's commercial centres and entertainment hubs ensures that the residents live a vibrant lifestyle in a world renowned residential unit.